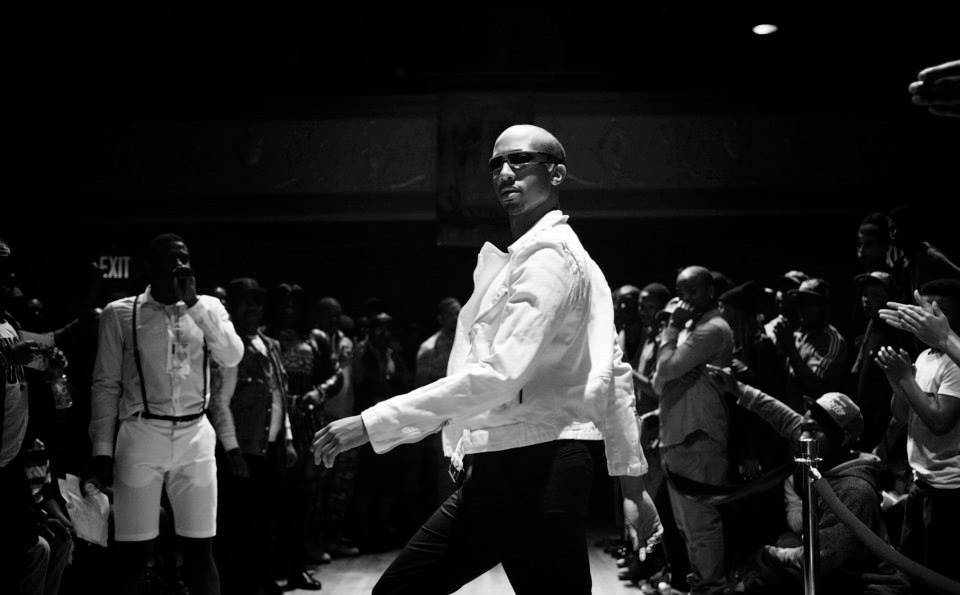 ROSEN: Tell us about yourself!
DURRELL: I started walking in ballroom in 2004, which was my last year of high school. My friend brought me to my first ball in 2004, and I was amazed. I always say that ballroom picks people, and you can't pick ballroom. It's an energy you feel when you walk into the ballroom space + know you're welcome and accepted. I knew I wanted to compete but graduating high school was my main priority. After I finished high school, I joined my very first house, the House of Khan.
A few years later, I was given the opportunity to join the House of Chanel. In 2006, I debuted in my category, European Runway in New York City at the ballroom New York Awards Ball. This award ceremony is ballroom's version of the Oscars where people are awarded for their influence + performances over the year. I ended up winning my first grand prize of $500, and the rest was history. During that time, I also started my career as a makeup artist and in 2013, as a photographer – inspired by the creativity of ballroom culture.

R: How did you get involved in ballroom?
D: At the time I always used to watch the Victoria Secret fashion shows, that was a HUGE thing for me and my friends and we would mimic what we saw the girls do. When I was in 3rd grade a fellow classmate called me a "faggot" because of my natural walk. I was traumatized when I found out what the word meant and hated myself for a long time for it because I didn't know I was gay at such a young age, nor did I want to be teased for something I couldn't control (which was my natural walk.) Ballroom gave me the space to become powerful because of my walk. What once hurt me turned into a talent that many people respect and idolize.
R: What's your favorite style/category to compete in?
D: I walk a category called European runway or Butch Queen runway. The term "Butch Queen" is a reference to a gay man within the community. The category itself (Butch Queen runway) is a category for men who are mimicking how models on the runway in Paris, London and New York would walk during fashion week. My style was heavily influenced by the models of the old Tyhierry Mugler shows and models from Victoria Secret shows like Karmen Kass. It's a category I have dominated for years and in 2016 while I was a member of the House of Milan, I was acknowledged as a legend for the category which means I have influenced the category, won cash prizes and have been a leading house hold name for more than 7 years.


R: How is ballroom important in the LGBTQIA+ community?
D: Ballroom is important for the LGBTQIA community because of its openness. It's a safe space where all walks of life can be themselves free of judgement. Ballroom really prepared me for the harshness of society. Being black, a male and gay comes with a lot of pressure due to stigma especially when you don't identify yourself as a source of feminine entertainment for "mainstream" society. People from this community come with so many different variations and ballroom allows us to be seen for who we are versus who we identify sexually.


R: Why is giving a platform to LGBTQIA+ artists important?
D: A platform is nothing without history. The disconnect from ballroom and mainstream society and culture including pop, hip-hop, beauty, fashion exc has been going on for years. Terms used from ballroom like "Legend" and "Icon" are used to show the leaders of our communities. Catch phrases like "its shade" or "yesssss", "ms thing" all stem from ballroom culture. It's just time people knew more about us and the impact.
R: How was working with ROSEN on this shoot special?
D: Ever since I started doing photography, my goal was to always work for a skincare brand. I have always been inspired by photos of skincare or editorial makeup since I started my career as a makeup artist working in retail at brands like Sephora and MAC. What made this project so special is that it related to home, my ballroom culture which helped improve and enhance my creativity over the years for my career to flourish and to me to understand how the business works today. Im honored to have taken part in this project, it's a full circle.


R: What was doing the shoot like?
D: The shoot reminded me of when I used to compete. Preparing looks, working with other creatives going over ideas and really getting in the zone to make the shoot come to life. I love mood boards with good details because you're really working with talent to create a character for a still image that has to be identifiable from the moment it is released. It's much harder than film or video because there is no language, no sound, just still expression.

R: Where do you see the future of ballroom headed?
D: Ballroom has been around for over 40+ plus years and any chance the narrative can be told right, if one household is introduced to it the history thrives and continues to live. With so much activism now and shows like Pose and Legendary the world is getting a better understanding of how important this community is not only just to the people in it but for all of humanity. it truly influences the world.
---